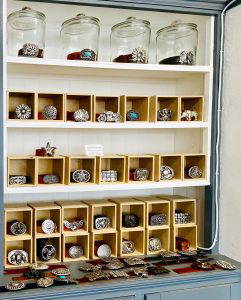 Last month I mentioned the fantastic variety of colours that Hip & Waisted provide in their leather belts, and how your choice in belt colour can tie and outfit together. However, a colourful choice isn't the only thing that Hip & Waisted provide. Let's talk about another accessory to your belt. It's time to talk belt buckles.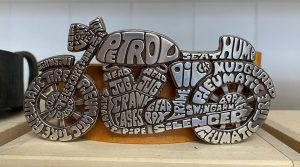 A buckle is an essential aspect of a belt. After all, without a buckle a belt is no more than a strip of leather… a finely crafted hand made, full grain, vegetable tanned strip of leather that is. How's that for search engine optimisation! So, you need a belt and a belt needs a buckle. If that's the case then why not choose a buckle with style? This is where Hip & Waisted excels as a high street belt shop.
Their window display hosts a plethora of buckles, from the ordinary to the ornate. A brief look further in shows you metal clasps and buckles of all different shapes and sizes. Do you fancy something Celtic, with historical flair and gravitas? Or maybe something inspired by the animal kingdom, from chameleons to horses. Or maybe you feel like bringing out your inner cowboy with a western style bovine skull.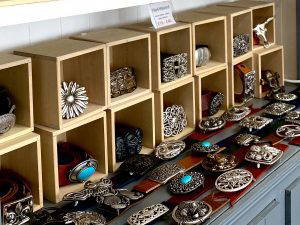 Or are you a petrol head, looking to show off with a selection of motorbike inspired buckles? Perfect to pair with a weekend bike ride around Devon. If that's the case, then why not try a buckle in the shape of a vintage roadster, cleverly detailed with graphic font forming each section of the bike.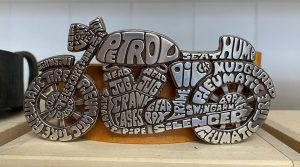 Whatever your style, I can assure you Hip & Waisted are likely to have it. If perchance, you might want something simple Hip & Waisted always offer a free pronged buckle with each belt purchase, and just £5 for a spare. So when accessorising your accessory then there's no better place to go than 55 Mill Street, Bideford.
Read our blog about the colourful selection of belts on offer here: https://www.hipandwaisted.com/a-colourful-choice