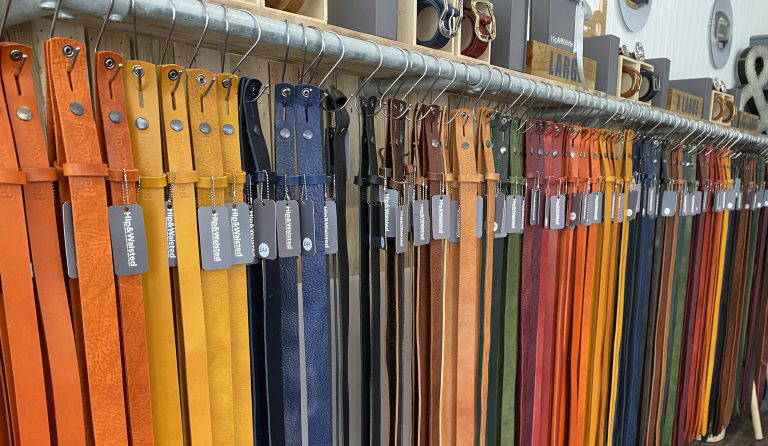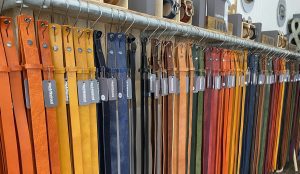 Hip & Waisted offer many perks as part of the service whilst shopping there, from the quality of full grain leather, to a service of repair and alteration that ensures your purchase is always well fitting. Another aspect of their products that deserves attention is the fantastic choice of belt colours, allowing them to provide you with a belt for any occasion.
The Bideford belt shop has a vast array of choice from traditional shades of brown and black, to something a little bit more adventurous with a collection of vibrant oranges, warming reds, mellow yellows and beautiful deep blues.
This wide selection of colours allows our belts to act as both a functional component, and as a focal accessory that can inspire an entire outfit. It seems lot of people can overlook the humble belt as a hidden strip of fabric, something to be covered by a loose shirt or blended in with similar colour trousers. However, when matched with the right outfit you can really tie together a look, adding a contrasting colour to an otherwise monochromatic suit is a great example.
Try mixing up a dark blue suit with a hit of bright orange or red, this can create a fantastically stylish look that shows off an understanding of fashion and colour with relatively little effort. Pair the belt with a set of similarly coloured suede boots and a wide brimmed panama hat and you have a brilliant late summer evening outfit, perfect for a night out in the streets of Milan…or even in the equally fashionable Bideford.
Your choice in clothing and accessories allows you a chance to stand out in a crowd. Hip & Waisted believe that the humble belt can be an epic place to start when embarking on a journey of self expression.