Hot foil personalisation
Some of us are lucky enough to wake up on Christmas day and discover a little gift from Santa Claus, often in the form of a new toy or gadget.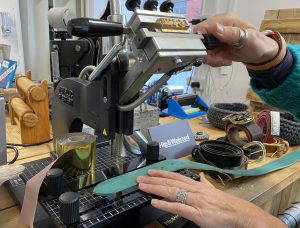 But at Hip & Waisted the metaphorical cart has arrived well before the horse (or should that be sleigh before the reindeer). Adam and Fee have recently unwrapped their new Hot Foil Press, a tool to help them create even more uniquely styled belts and leather products.
The interestingly named Metallic Elephant is a nifty, not so little, device that allows Hip and Waisted to put an imprinted design into a piece of leather. Using a mixture of heat and pressure, the machine stamps down with a metal typeset to emboss the leather with an indented message. But an indent isn't all this machine is capable of, as I mentioned before this is a Hot Foil Press. This means that the Metallic Elephant also provides the option of having an inlaid section of gold or silver foil to really make the wording stand out. This means that when you buy a full grain leather belt from Hip & Waisted, it can now be uniquely designed with your own stamp of individuality. Be it a name, initials or a brief slogan that defines you.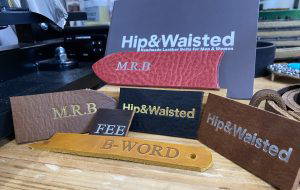 However, as the Hot Foil Press is relatively new to the store, for the time being Adam and Fee are only able to create short impressions with few letters, but with a little practice the hope is there to vastly increase what they can do with this device. For now though, the Metallic Elephant is yet another way that Adam & Fee can add to the creativity and craftsmanship and unique nature of a Hip & Waisted belt.
So, this Christmas why not consider popping on down to Hip and Waisted? Come and pick out a leather belt from their vast array of choice, add a stylish ornate belt buckle, and finish it off with the newly available luxury touch of a silver or gold foil stamp.